Hi Ramu,
Whats the Spacing…
Is it the first time you are trying or is it tested already… what were the results
Thanks
Venu Kulkarni
4 suckers equally spaced at 45 CMS from each other in square pattern and general spacing is 2 M either side …Earlier we tried triangle pattern with three suckers that yielded 3.6 lac income per acre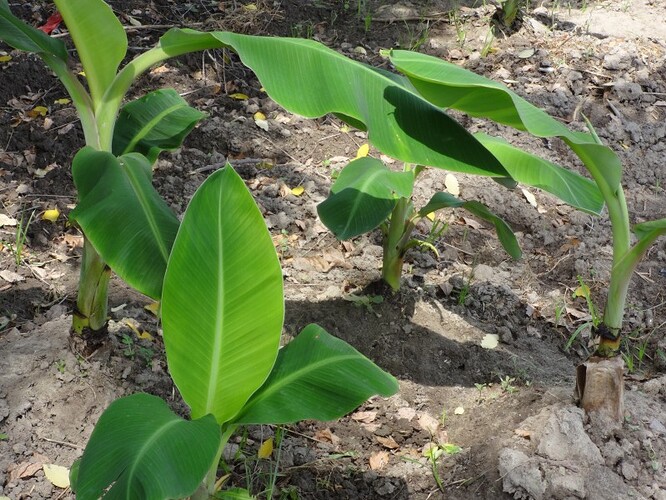 Thanks Ramu,
Can you please tell us how many plants/suckers are accommodated in 1 acer with square planting and triangular planting.
thanks
Venu Kulkarni.
Triangular pattern 3000 plants per acre and in case of square pattern 4000 plants
Hi Ramu,
Thanks for your reply. Your posts are really informative.
Do you have any comprehensive plan for banana cultivation, from soil preparation to harvesting, and tips to get high yield. like you gave for other crops.
Thanks in advance
Venu KUlkarni
Land preparation methods vary according to the type of soil where you intend to cultivate banana
Next important factor for banana cultivation is irrigation water availability
Third important factor is Drip cum fertigation with different quantities of various water soluble fertilizers administered in a pre determined weekly schedule in the relevant context of different growth phase of banana crop like Establishment phase, growth phase , flowering , fingering and maturity phase …
Another tips for increasing yield is to make slanting cut and remove the terminal flower spathe and tie the cut ends with polythene bags each containing 5 grams of urea in such a way that the cut ends touches the urea granule. The exudate secreted from cut ends absorb the urea which is highly volatile in nature …Once the urea moves inside the banana fingers the gas generated by urea make the fruits swell bigger in size and look glossy and shining …Care must must be excercised that any excess administration of urea will cause over swelling and fruits will get cracks and split…However this technology is optional for the banana growers to follow on his own decision…
Selection of sword sucker is the best method when you do not use TC plant …
Desuckering ( water suckers ) and removing side branches / laterals is important in banana cultivation …it will impair the main plant as it competes with main banana ( Mother ) plant and divert water and nutrients intended for mother plants
Apply Micro nutrient mixture in case of deficiency noted in your soil …
Use healthy and disease free planting materials …
Cover each banana bunch with perforated polythene bags to prevent insect pest …
Spacing provided is only for G9 right? Can this be applied for yelakki banana?
Elaki banana is native of karnataka …I think so…however you may measure the length of leaves in elaki banana and also judge the orientation of the leaves and then you can adjust the spacing …
For your kind information , what we have planted and posted here is not G9 banana .it is native local banana variety…
Hi,
Can we achieve the result with ZBNF ? then instead of urea and synthetic fertilizer what we can use ?
since kind of this banana cultivation meant for leaf production , ZBNF or any ordinary organic farming methods can be followed
Ramu,
since kind of this banana cultivation meant for leaf production – What does this mean?
Banana cultivation is only for leaf production?
Also can you let me know what breed you are using for high returns?
Thanks,
Mahesh
Yes…Banana cultivation done for leaf production . Leaves are harvested regularly for hotel for serving foods . Only local varieties of banana are cultivated . For fruit production G9  Tissue culture banana is cultivated
Dear Ramu,
Please explain how 5.5 lac earning was achieved by banana leaf production only. It seems the numbers look very attractive but providing more details would help us a lot.
Thank you
Siva
Dear Mr.Shiva
Since we are concerned about leaves only we plant 4000 suckers of traditional banana varieties per acre . Single banana plant produce 55 leaves on an average per mother plant and 22 leaves on side shoots . So main leaves are sold @ Rs.2.0 ( Mother plant leaves are big ) and side shoot leaves are small that are  used for serving tiffin in hotel sold @ Rs.1.50
Big leaves 4000 plants * 55 leaves * Rs.2.0 = Rs.4,40,000
Small leaves 4000 plants * 22 leaves * Rs.1.25 = Rs.1,10,000
Total Earning is Rs.5,50,000 per acre
Again cost of cultivation is less compared to the cultivation for fruit production .Because fruit production needs more phosphorus and potash …where as leaf production just needs nitrogen …
Dear Mr.Ramu,
Thanks for the swift response with profits from selling banana leafs. I have few questions
What type of native verity banana are you cultivating ? In m place, we use Poovan for leaf leaf cultivation.
Since we dig trenches for  banana cultivation, Is it possible to plant 4000 plants per acre?
How many labors required for per acre?
How often the leaves are harvested from the plant?
What is the cost of labor and other expenses per year?
Did you sell the leaves to local wholesalers or direct to Hotels?
Transport cost.
Regards
Siva
Ramu,
I have similar question in mind what shiva asked.
what type of local banana plant type you used? What is the cost per plant?
Please share your no#.
Thanks,
Dear friends
The varieties cultivated here is karpooravalli
For leaf production , we can plant banana without pit or trenches since the banana tree grown for harvesting leaves does not carry big crown
Harvest is done once in 3 days
Labor cost is Rs.150 per bundle of 300  leaves for harvesting
Other cost is
Sucker cost - Rs. 2.00 per sucker
Land preparation cost - Rs. 2500 per acre
Farmyard manure - 6 MT
5  kgs of 19-19-19 NPK water soluble fertilizers
2 plough as interculture - Rs. 1000 ( Rs.500 per oxen plough )
Buyers come to the farm and harvest their requirement of leaves .
Bio fertilizers like Azospirillum and phosphobacteria each 2 kgs are applied per acre at the time of  planting
No other cost is incurred
How about the cost of support system? You need the same and the life of each plant ?
Thank you
venki
Hi,
I have a 4 acre farm with good water resources…I would like to get into banana cultivation for leaf farming…As suggested by you…if I am supposed to plant 4000 suckers per acre and 45 cm width apart and 2 m width from each cluster…will trench irrigation suit the need and if yes…how to dig trench …kindly advise me with some drawings as I need to make the person understand who digs trenches…
Thanks in Advance
Joe