For those who are interested…
When I noticed that registration fees are prohibitively expensive I wrote to Chairman Dr. Baker. They responded saying that farmers can pay a low fee of Rs 5650 and exhibition halls are open. FYI
[i]Thank you for your e-mail, WAF has designed a special rate for farmer i.e… 5650 INR. you may register on 4th November or 5th November, 2013 attend the congress.
Exhibition open for all.
Thank you
Best regards
Project Manager- WAF congress & ATF 2013
Thirupathi Atkapuram[/i]
Doesn't look like it is targeted for the farmer, does it?

Sounds more like a ton of hifi discourses!
That's right Chandra. Very unfortunate!!
Ironically it's titled… "Re-shaping Agriculture for a Sustainable Future. Focus on small farm-holders"…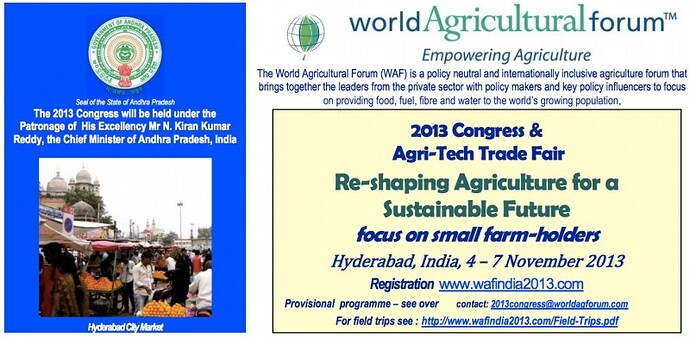 As expected it was a total mess. It's all over the news that they literally shut the farmers out causing outbursts of protests. It was shown on TV that some 400 farmers were bused by authorities but left out since they did not pay the entry fee. What a shame!