WATERMELON GROWN IN BOWER SYSTEM …PRODUCE QUALITY FRUITS WHEN FRUIT WEIGHT IS SUPPORTED BY NYLON NET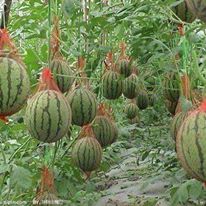 Dear Dr. Ramu sir,
Hope you are doing well sir. Can we collect a detailed write up and valuable information on this subject. waiting for , with Very much interest on this subject.
with best wishes,    g.p.rao,      farmer
Dearest G.P.Rao sir …
well .Does not this watermelon look great ?
It was grown in bower after the harvest of bittergourd …
my friend musharaaf asked for suitable crop after bittergourd finished yielding in November
we did not want to plough the land once again that seem a difficult job inside bower
so we raised water melon seedlings in polybag and planted 18 days old seedlings in the same row of bitter gourd  at 1.5  M spacing between rows and 0.6 M between plants
18-18-18 NPK WSF used instead of all 19
just weeding and ethanol spray @250 ppm at 15 th days just 3 days before planting and  22, 29 and 36th day after planting …
Used nylon net when the fruits are about 300 to 400 grams weight
the beauty of this method was that  fruits were free of pest and disease and easy to monitor the growth and maturity of fruits for harvest at right time
Really wonderful  .we have watermelon as bonus crop after bittergourd
I trust your great self too can test this in your location
regards
Is it heavy weight right? how do we manage? where to get poly bag to maintain the weight.
It is nylon net ,not polybag that support the weight by holding the fruits to the overhead line
Thanks. So you mean to say that nylon net tied with main line or wooden stick right sir.
you are right .It is the same
Dear Dr Ramu sir,
The water melons are great and looking awesome.
how many fruits per plant and how much weight per each fruit, expected and what would be the expected yield per acre. How much the net costed and what is the size of the net. Pl specify sir.
with best wishes,      g.p.rao,      farmer
Dearest G.P.Rao sir
The watermelon was planted in over 0.50 acre . The field was originally planted with bitter gourd . After the harvest of bittergourd ,following were done about water melon
Polybag seedlings of watermelon were planted without any basal application of either manure or chemical fertilizers
18-18-18 NPK water souluble fertilizers was applied through drip irrigation .Quantity used was 10 kgs , Urea - 25 kgs , Potassium nitrate - 20 kgs , calcium nitrate - 5 kgs
Total number of plants planted were 2220 plants .
Live plants after mortality - 2110 plants
Individual fruit weight in the range of 4.3 kgs to 2.5 kgs
No of fruits per vine allowed are 2 for healthy vines and 1 for less vigor plant
Yield recorded was 7.2 MT
Total expenditure was Rs.6900
The first harvest was 5.8 MT sold @ Rs.6000 per MT and second consignment for Rs.4000 per MT
Gross income - Rs.40400
Gross expenditure -Rs.6900
Net income - Rs.33,500
Since drip irrigation and bower system are originally meant for bitter gourd , he did not include the cost of these kind of infrastructure .Watermelon is  a bonus crop
Dear Dr Ramu sir,
Fine sir. you mean, Each fruit is individually tied with a piece of nylon net and the pendal wire. ok sir.
with best wishes,    g.p.rao,        farmer
Dear sir
Yes you got the point …great sir
Regards