please help  me with information about feasibility of water gun irrigation for banana cultivation
I am no expert but my logic says that Water Gun would hurt the plant and the fruit, drip irrigation / flood is the ideal one.
Thank you Sir khushizone ,
Rain Gun Irrigation is not suitable for BANANA. It will Damage the Leaves as well as the Flower.
Drip Irrigation with 8 LP is Most suitable for Banana. Under Drip Irrigation Weed can be controlled and Mostly with Mulching. Drip is Far better than that of Flow Irrigation. Under Flood Irrigation weed cannot be controlled.MANNE SN  9133498366
But the how we can apply the fertilizer through drip irrigation. If we apply through drip , will it be unifrom althroughout. Please give some advice on this matter
Very much possible. name of this technology is called fertigation. based on this new farming method is evolved. It is "Precision farming" Tamil nadu is biggest contributor for this technology.
You have to use water soluble fertilizer for this and use equipments like ventury and fertigation tank
thank you. can you send me information who provides online drip irrigation system(cont or something)
Most cities has Jain dealers,Netafim, Finolex dealers. They can give you all the materials and help in design ,installation.
You just need to contact right people in your city.
Thank you Bhayya ,Fertigation can be Provided through a System called  "Venturi". Generally this Venturi will be Provided by Drip System Installation Companies. If not need to Purchase. Only venturi will be about Rs.1500 and along with Manifold  it will be about Rs4000 to Rs.5000.
Fertigation with water be spread uniformly to all the Dippers in the Case of inline Drip System. In the Case of online Drip system water and Fertigation is  vary from FIRST Dipper to last Dipper. Inline Drip system is Preferred. 
Pl. Find the attached Venturi Images.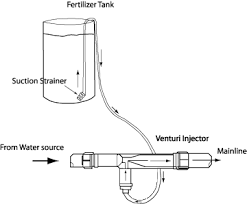 Ok thank you for your help. I had asked about the method , Is it efficient if we form a circular loop with interspaced drip points around the circumference of the plaintain?. Please reply
Thank you Sir,
There will not be any necessity to make any alterations. If the Crop is Plantain you have to put 8LP Dippers. If already made 4 LP dippers (Inline) attach another online 4 LP dipper per plant which will be sufficient. For further details Pl. call 9133498366
not necessary to make any further alterations[quote="DevanarayananVP"]
Ok thank you for your help. I had asked about the method , Is it efficient if we form a circular loop with interspaced drip points around the circumference of the plaintain?. Please reply
[/quote]