Shine Brand Seeds - short on professionalism.
I have placed an order for agri seeds on shinebrandseeds.com after a number of marketing calls received from them over the last few months. Unfortunately the experience has not been pleasant and I had to opt for a refund.
What is nice:
Multiple brands of seeds, including some from Shine brand seeds' own products. Field crops also are listed. A good number of products show in stock
At least a few phone numbers for support and several support staff. A call often gets a callback
A fairly good looking website purely dedicated to seeds, with a functional crop filter for products
What can improve:
Site misses basic technology essentials - does not redirect to https, registration otp was not working for months, order emails are sent from a gmail account that lands in spam, to name a few
Order tracking details are tucked away and inaccurate. No proper tracking emails or SMS
Inaccurate shipping information provided on calls. Even though actual dispatch did not even happen even after multiple days of follow up, false commitments of delivery were made multiple times. Finally had to request a refund (that happened quickly though)
Support team needs to gain professionalism. Hints of a condescending attitude to cover up process shortcomings were evident from some agents. While correct tracking was not provided, cutting off calls, getting impatient, asking why the customer does not remember the earlier advisor names, and suggesting to order on phone instead don't reflect very well on farmer friendliness
It would be good to expand support beyond Hindi to at least English.
Conclusion
Shine Brand Seeds seems short of professionalism, site technology and farmer friendliness. Having to battle with wrong dispatch information, needing dozens of follow ups and spotty communication is not worth the time or effort compared to a simple purchase from a nearby physical shop. However the considerable setup and staff indicate an aspiring serious player - we hope to see an improvement that allows to update the review.
You can post your own review and rating by replying to this topic
Missing redirection to secure site in eCommerce: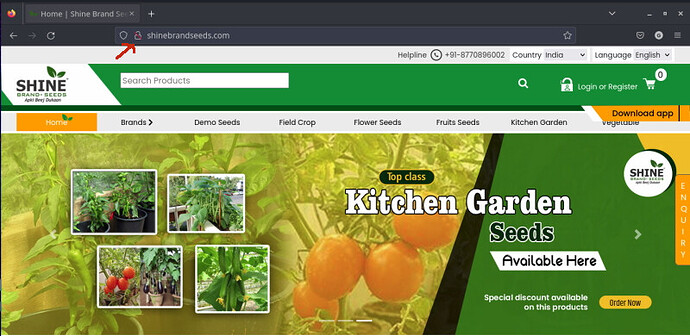 Finally shipped on 10th day after many follow-ups, wasted hours and wrong confirmations given about being already shipped.