I would like to know is there a way to identify if the product cultivated through Organic or not?
Hi Vikram,
        One of the way to check the products is to buy it from a certified buyer, who has an organic certification. I guess there are some testing agencies as well which test the product, but I dont have any contact details of them. If you buy from a trusted source, where you have checked that the products are being cultivated organically, then you need not go the extent of verifying the certification or getting the products tested.
Regards,
AKS
Pesticide resedue test can be made, which is expensive.
AKS has covered few points,
A certifier can identify plants (not produce) if it is organic or not. They have some tests. Example: Organic paddy has whitish roots chemical farming will have greyed or blackish roots.
Most certifiers certify based on visual inspection of the farm, few questioneer,  earthworm counts etc.
hmm. Term ORGANIC is all BULL.
I have been to some farmers and most are corrupt. I am not saying every one.
Genuine ones are very rare. and it becomes difficult for them to thrive in today's market, unless they have surplus land or lot of cash backup.
This is a organic farm i visited and stayed for few days(I don't want to name the farm, please i will not entertain messages pertaining to this topic), I was here for couple of days. And the person who funds this farm has the capacity and manages a lot of huge firms. It's a piece of cake for him to setup even a organic certification firm of his own or fund some one else. Trust me lot of people are fooling around. But again genuine ones are also there. so watch out.
find the attach image.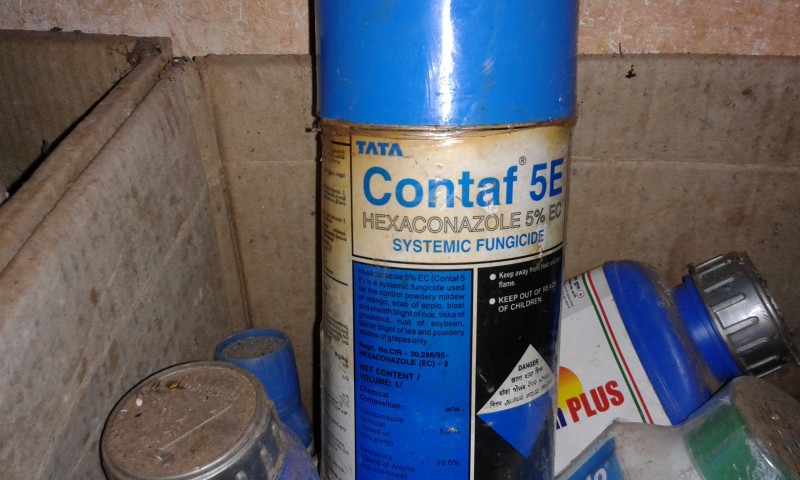 Hi Anoop,
      the word organic has become a fancy term now a days and everybody wants to sell their produce marketing it as organic as it quotes high prices in the market. The issue is, cultivating anything organically/Naturally is tough where as doing it the NPK way is far easier. You just put some fertilizer and if there is pest infestation, throw some pesticides and if weeds pop up, sprinkle weedicide.
If people are really concerned about their own health, safe environment and can work hard initially, they will stick to the organic/natural ways of cultivation. At least, they cant cheat themselves and shouldn't be unfaithful to their own profession.
Moreover, if people understand that they can earn same profit (even higher in some cases) through organic cultivation, they will switch to organic totally. Farmers should be educated properly, but most of the farmers are too egoistic, and they don't want to try anything different.
These are my observations interacting with the farmers, but there are few good people who are looking out for something better, coz the current way of farming by NPK are not working for them anymore. Such kind of people will switch to Organic totally, but they should be demonstrated that Organic cultivation is possible.
Regards,
AKS
Dear Aks,
I would not be too harsh on farmers, I have had the opportunity to interact with thousands of big & small farmers in Telangana region in the past year or so. If you see the problems they are facing you would understand why they are so reluctant to try new things.
But like you said educating them would change them,but that change should be slow & permanent rather than quick & short term.
Thanks,
Madhav

  finally nobody said the Testing centres details.
Pls post the testing Lab / centers to test the products.
Dear sgroups,
Here is a list of organic certifying agencies, I am sure most of these have their own labs that do testing on soil, produce, etc.
ncof.dacnet.nic.in/Organic_Certi … Bodies.pdf
You can contact the one near you, they may be able to help you.
Thanks,
Madhav
Dear Vikram,
Vedic organic is located in Bachupally, Hyderabad. I am sure they can help you out
vediccertification.com/
Thanks,
Madhav
Organic products is a chain of custody certification and are inspected and verified by external agencies as per the standards and the inspectors uses objective and subjective observations to evaluate compliance against the standards. To cite some examples although are context based but to some extent serves the purpose on the field to verify whether the farmers has been practicing organic procedures.
Succulence of the leaves are due to nitrogen fertilization. 2. Texture of the soil Organic soils have a fine tilth while a conventional soils are hard and compact. 3. Earthworm activity is more in organic and less in convetional 3. Presence of beneficial insects on the farm 4. Presence of empty pesticide packets???. 5. Soil or produce testing for pesticide residues. This are a few to infer whether the farmer has been following organic procedures. While the produce after harvest can only be tested through pesticide residues analysis and there are a number of accredited testing laboratories in India which can do qualitative and quantitative analysis depending on the need to asses their presence. Residues found below BDL(Below Detectable levels) can be consider to be free of residues. Attached is the list of accredited labs for analysis.
Thanks Purushotham
9849437812
Annexure6.pdf (14.5 KB)
Hi raagaorganics
Thanks for providing the list of Testing centers details
Do u know any testing centers in chennai. Tamil Nadu.
Pls watsup me: 9840662462
Please find the address of the Testing lab in Chennai.
SGS India Private Limited
No 28 B/1 Sp & 28 B/2 Sp Bnt Connections Building,
Opp To State Bank Of India, 2nd Main Road,
Ambattur Industrial Estate, Chennai - 600058
+(91)-44-66081600, 66081700, 66081800
+(91)-44-26523314