whether pruning required for these jamun / naaval  (Syzygium cumini )  tree of 8 months old ?.pls see the attachment.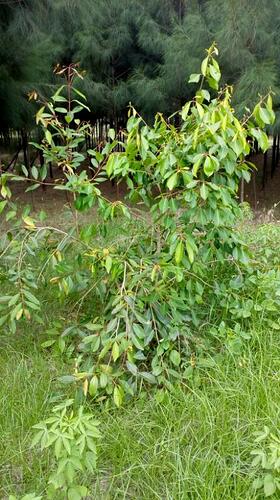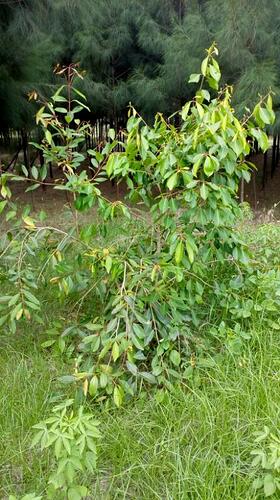 Dear Sri Gopinath ,
Sir,  The Horticulture university, Konkan Krishi Vidyapeeth, Dapoli, Ratnagiri District, Maharashtra have developed a high yielding and quality and well market accepted variety,  " Konkan Bahadoli" ,jamun variety and it is doing very good results in Indian markets and with Indian farmers.
They did a trial/study in 2013 on Bahadoli Jamun variety plants and they are well accepted in 2014, internationally.
They have concluded that if the jamun  trees are pruned at a height of 2.7 mtrs/3.6 mtrs height , the production, quality of fruits, marketable size and with low labour intensity, the farmers can get good yields.  In the above two systems, 1 st will do good , better than 2 and. Results are very fruit full.
For using these two, your planting density should be much more than normal density, if not your land will not be covered.
It is a new innovative practice in jamun plants and risks also will follow your farming process. If a farmer wants to do innovative farming, he should be prepared for taking risks and to make necessary amendments.
If you prune, you can do good and comfortable harvest. No much damage also, like traditional plantations.
Any doubts you have, pl ask our forum in particular.
With best wishes,    g.p.rao,    farmer
Dear Sri Gopinath,
Sir please read " www.ccsenet.org>jps>article>viewfarm ".  (PDF) effect of pruning on flowering and plant yield of jamun CV Konkan bahadoli  please see the above sir and please try to meet professors, concerned of the Horticultural university, dapoli, ratnagiri district, maharashtra state.
With best wishes,    g.p.rao,  farmer
Hi Gopinath,
Allow only main stem up to 3 Feet Hight. Than allow 4 branches to grove in four directions up to 2 to 3 feet.
Make 4 Branches in to 8 branches keeping in mind that light and air should pass through all area of the tree.
Allow tree to grow to reachable height for harvesting the Fruits.
Thanks  a lot  Dear  G.P. RAO  sir & dns1807.
Casuarina is my  main crop. & i have  planted jamun , mango &  other type of trees in small plot ( 30 cent ) as a trail.
i will,  surely prune as per ur advice.
thanks once again.


Gopi.
Dear Sri Gopinath,
Sir,  In which part of Karnataka, your lands/farm is existing.
With best wishes,    g.p.rao,    farmer
Hello Sir, I am planning For Jamun plantation in Andhra Pradesh.Could you please send us the contact details of bahadoli jamun plant supply contact
Thanks,
Swamy
I planted thousands of jamun trees and I am not convinced by this technique. In nature the jamun tree is not drastically cut like that.
cut only the very lower branches that form a "dress". After 04 years you clean the dry branches.