Hydroponics
How we can implement hydroponics on terrace gardening , How we can generate fresh veggies for our daily use.
Hydroponics on the roof is a good idea.
A few words of advice. Though the simplist form is the Kratky method, I find the weight of the water can be a damper.
A second option, this is found very successful was taking 4" PVC pipes, capping off the ends, drilling out 3" holes, putting net pots with leca clay balls, and plant the seeds directly. I did the lettuces this way and they grow well. Initially the pipes were filled with nutrient soon, but as the plants grow, the level has to reduced so that you do not drown the roots. An air stone can be added with an aerator for oxygenation .
A third method, I found useful, was the NFT method. Here a minimum amount or water used, making the system very light, and has vigorous growth, but you need power 24/7to run the small feeds pump.this can be solved, but putting this pump on the home Invertor circuit. Wattage is about 60 to120 watts, so easily handled .
Another system is Aeroponics, supposedly the most efficient of the lot. I have made a "juggad" and it seems to be ok. A lot of tweeking required.
And as a footnote, I have been doing this for over a year, and still not got it right for the nutrient concentration . Very frustrating. Lovely grown with the tomatoes ,and brinjajs, good flowering, but hardly any fruit. The okra, was good, lots of fruit - so ,like I said, it's a bit of a damper! Can anyone shed some light on this??
We are in the process of offering the nutrients mix for various vegetables like tomato,cucumber,and lettuce. The intial trials were completed,and now we are taking final trials ,but it will take couple of months to finish this.
Hi Jaspal, I have grown tomatoes, beans, bitter gourd, capsicum using hydrponic nutrients. But I did not prepare them myself. IF you don't have the chart already, you could refer geekgardner.in and visit the forum section to check on it. Garden guru (store run by geek gardener) used to sell nutrients. They are basically grow & bloom nutrients. There are also varieties like, tomato mix, capsicum mix, leafy vegetables mix available. But they are bit costly. It used to cost 1/- per litre. I have also not checked on how to procure the ingredients used, nor have I checked if there are any other sellers who offer for a economical price
But the results were good, for example when the plants crossed from grow to bloom stage, changing the nutrient to bloom, helped lot of flowers & fruit growth. In your case that could help
I believe unless you have proper drip system, i,e to circulate water to the plant, and from the plant to the tank, you will be spending lot of money. It works well for leafy vegetables where you can have a raft system, and suspend the pots as you mentioned
Hello,
Hydroponics and Aeroponics on Rooftop is a great idea. Not only for kitchen use but for commercial purpose as well.
I have been doing hydroponics and Aeroponics over a year and half now and have started getting some good results.
I did Strawberries in Aeroponic Tower (as show in attached pic)
and Flowers and Tomatoes and other things in 4" PVC pipe system (as shown in pics)
Aeroponics tower works excellent for strawberries/flowers/herbs/leafy Greens/ and medicinal plants
Dutch Bucket system is the way to go for Veggies.
Even with small terrace and balconies you can grow wonders with these systems.
Regards,
Suraj
mksuraj83@gmail.com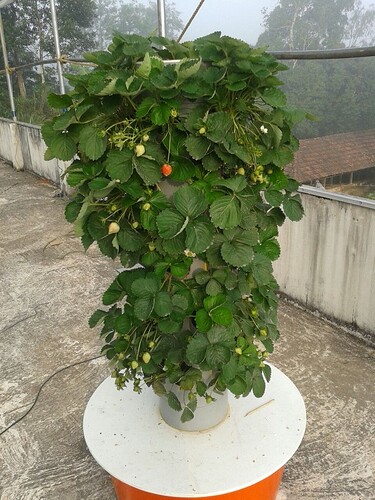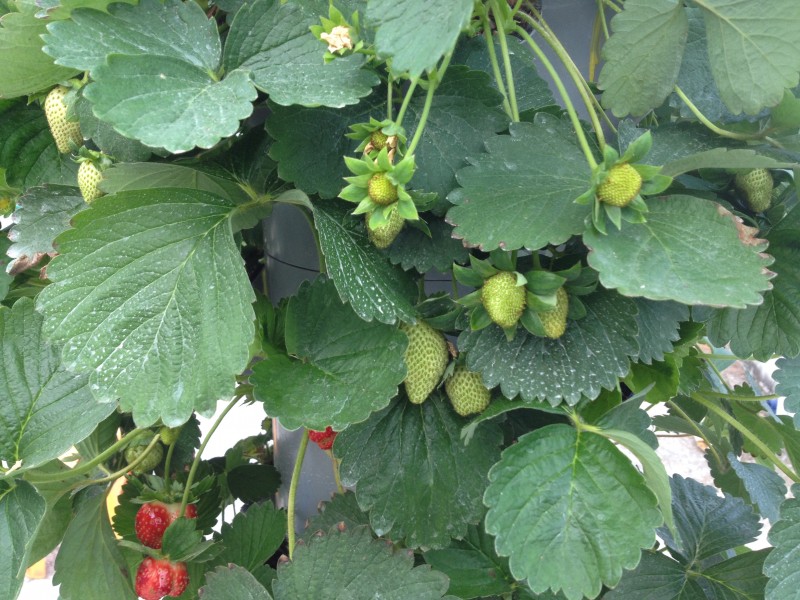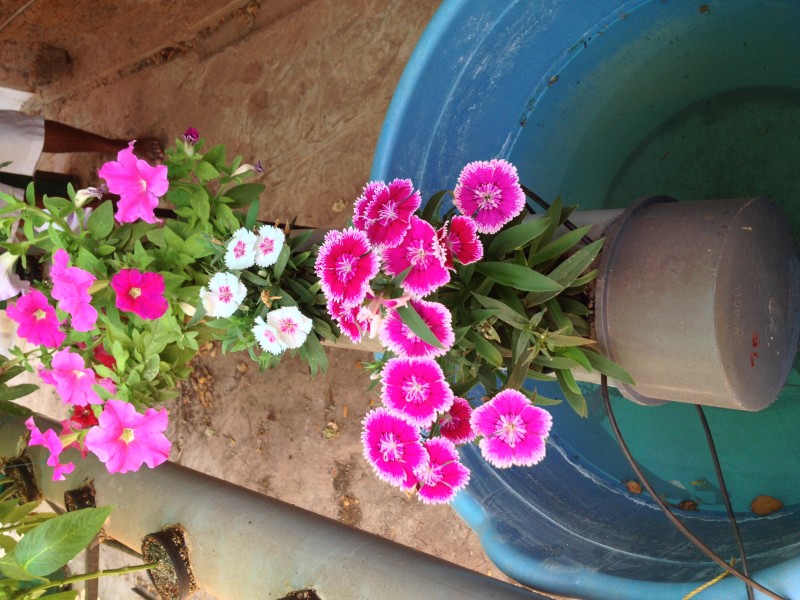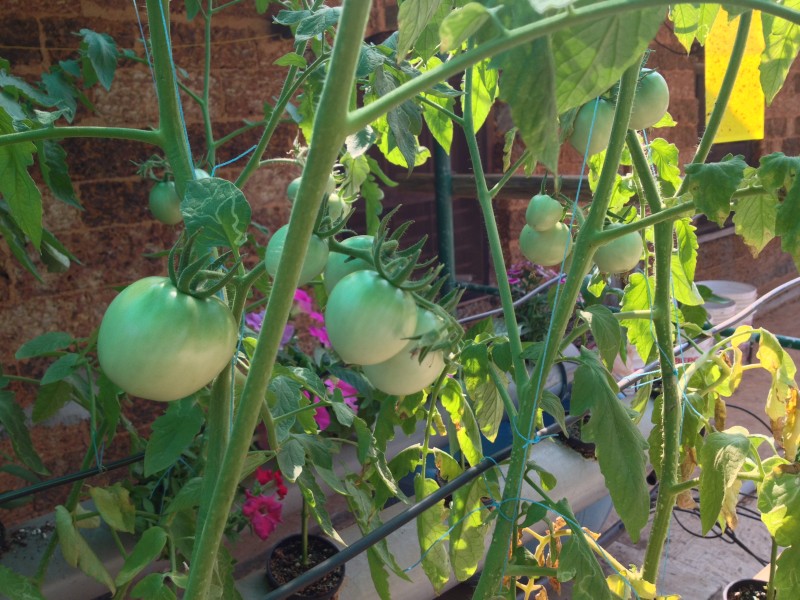 Great work Suraj. Good luck!
I sincerely request you to create a seperate blog as to a step by step procedure that you have adopted to achieve this, that's if time permits and if you are interested , for the benefit of the farming community.
And also, looks like you have a greenhouse roof, a rain shelter isnt it? I can see the GI columns in your 1st pic…
Regards,
Hi Saravana kumar,
Thank you.
I am on the process of creating a website about Aeroponics and hydroponics, will let you know when I complete it.
And yes you spotted that right, we had a green House under construction when I clicked the first pic. Its complete now and looks neat.
It has Automatic climate control system and we are planning to use High Pressure Aeroponics in here(Bit Expensive stuffs)
Attached pic here.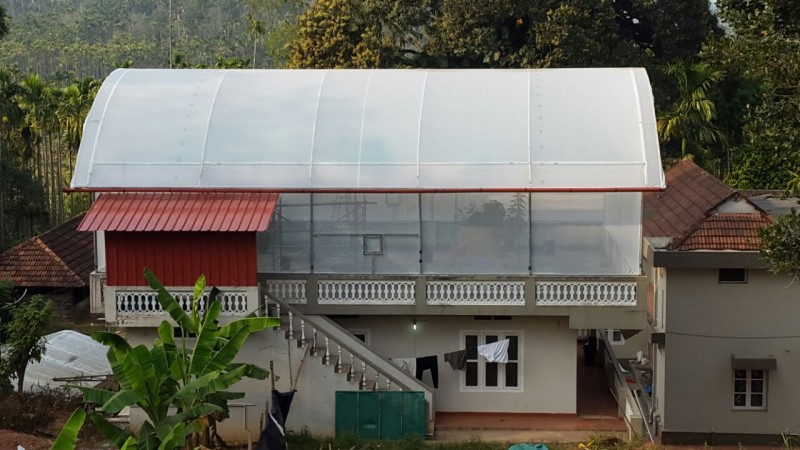 What veggies/ flowers we can grow in NFT in summers in Delhi?
Just wish to start tomato growing on smallest possible scale in My Balcony using Hydroponics.
I do have seeds,Seedling media(Rock wool)  is also arranged.
Looking for Nutrients …can somebody pls share info. as My requirement will be very small and getting more quantity is waste.Hope i get readymade solution A and solution B.
Rest of the process i will organise on my Own or will comeback for help,support,suggestion.Thanks.
My Location is Dombivali Thane District Maharashtra.
Will you please post pics.Thanks.