What is this Ghanajeevamuita, how different is it from other Jeevamrutha?.
Hegde,
Ghanjiwamrita, as the name implies, is the solid version of jiwamrita. It is dried in the shade and can be stored for a little longer than jeewamrtita and is easier to transport. You can check out the preparation details on Palekar's website - palekarzerobudgetnaturalfarm … mrita.aspx
I contacted the gou shala at Ramachandrapura Mutt (hosanagara) and they agreed to prepare it for me, bought about 5 quintals of this stuff. Althought the people at the mutt were very helpful and kind, it is extremely costly and laborious to get it done outside. I could have bought a small cow with the amount I paid for 5 quintals of this stuff and prepared the stuff myself.

Thanks,
AK
how long did it take for you to review the farm, it looks very green and complete
All is well there, i was just trying to explain the organic practices that we follow

sorry I meant to say that the farm looks wonderful and like a forest, how long since you had this? when it came into your hands was it like it is now?
This one we have since 40+ years, created by my dad, is looked after by advocate brother.
All other discussion i was having was with respect to other land where improvements have started only this year. This place, i have to create everything from scratch.
Hegde,
organic farming concept includes use of material availbale insitu and obtaining anything from external sources is not recommended.
Secondly, as i know, use of boardeux and sulphur is permissible in organic farming.
sincerely yours
kskarnic
Hi Brijesh,
Agri/horticulture crops are cultivated not only for the benfit of self but as well to cater to the needs of the society at large. If these crops are grown for self consumption one need not have large tract of land. All our efforts to increase production through various management practices are for the well being of the human beings.
with regards
karnic
[quote=AK1311]I think you are right to an extent. We face water shortage from Feb to June every year. But I have some trees that yield quite well. Over all, we have harvested about 1200 nuts in the past year from this farm, most of the produce coming from less than 20 trees.
I have to agree that I am not 100% natural yet. We went for a Bordeaux spray last year mostly owing to neighbors' pressure. Generally, in this village, people use minimal chemicals. I think the only chemical used is the Bordeaux mixture for areca. This year, I have asked my caretaker to go for an organic spray called 'Biofyte'. I am prepared to lose a significant part of the yield just to observe the effects.
Our coconuts too got some potash last year when we provided some chicken manure + potash + salt. So again, it's not 100% natural. But this year on, it will be only green manure and jeewamrita.
About yields:
Areca - has increased from 12 quintals in 2010 to 15 quintals in 2011 (still way below average of 30-40 quintals/acre)
Cashew - has increased from 97 kilos in 2011 to 130 kilos in 2012
Coconuts - increased from 800 nuts in 2010-11 to 1200 nuts in 2011-2012
We use minimal labor and no additional fertilizers or enhancers. I think the increase in yield came from better irrigation and mulching. We have tried Ghanajeewamrita for about 4 months but it was too costly to source it from outside and beats the whole purpose of natural farming

so decided to stop it.
I intend to follow only natural farming practices because:
I don't depend on farm income for living expenses, I can afford to forego some profits
I was influenced by Fukuoka to take up farming and I want to see for myself whether his theory works
I will continue to document the yields and analyze it over a longer period so that these numbers are more trustworthy.
Thanks,
AK
[/quote]
where is this farmland situated.
we can help you in reviving these uncared tengina maras.
Thanks keshavapuri, this farm is about 75 km from Shimoga in Tirthahalli taluk.
HI,
I AM RISHIT AND I AM FROM RAJKOT, GUJARAT
I HAVE PLANTED COCONUT TREES AROUND 30 SINCE LAST 6 YEARS. NOW THEY HAVE VERY SMALL TENDER COCONUTS COMING.
I HAVE DONE DRIP IN IT HAVING 30 LTR. OF WATER EVERYDAY.
I HAVE ALSO GIVEN COWDUNG AND SALT AROUND IT FOR MORE GROWTH.
WHAT ELSE SHOULD I DO. I HAVE HEARD OF POTASH AND ALL SO PLEASE DO ADVISE ME FOR THE SAME.
ALSO WE ARE FAR AWAY FROM OCEAN SO DO LET ME KNOW ACCORDINGLY.
Hi Rishit,
I'll let the experts here answer your questions on Potash use. I don't use any fertilizers or chemicals. What I have observed on my farm is that Coconut trees need abundant water and organic manure (50 kg per tree per year, according to agri board websites). They also need time to show improvement - about 2-3 years from the date of application. On my farm, I have 100 trees. In 2011, they yielded 800 nuts in total. That's when I started applying neem cake, glyricedia leaves, mulching and also started good irrigation.
Although there was no immediate improvement, in 2012, the same trees yielded 1200 nuts and this year, it's averaging 200 nuts a month (2400 a year). Most of the sickly trees that were not yielding a single nut have started flowering this year. This makes me believe the native wisdom that coconut trees take 3 years to show improvement from the day you start caring for them.
Care for them and have patience, they won't let you down!

Thanks,
AK
Hi,
What AK just pointed out is absolutely correct. The trees tend to take abt 3 years to "revive from the shock". Don't use chemical fertilizers. One for the reason that it is not environmentally better and secondly from the cost/expense part.
I am currently going thru the same phase. Last to last year the trees where almost dying but the last one year has given me abt 90 nuts per tree. We applied lots of cow dung and few loads of river silt. The trees are improving.
One thing I haven't done is to plant legumes around the tree and secondly mulching using waste products from the tree itself (shell, leaves etc…). Mulching tends to improve the trees a lot. I will be doing these activities this year once there is decent rain.
I was also told that rearing honey-bee also improves flowering which inturn means more yield.
There are few videos in youtube on how to take care of coconut tree. But they are in Simhalese…
youtube.com/watch?v=sAHVL_tENzo
youtube.com/watch?v=TS2I24ps7V0
-Biju
PS: AK Sir, can you pl. let me know where you procured the glyricidia from? Stump or seed?
Thanks
Biju, 90 nuts per tree per year on average is an amazing yield sir! Unfortunately, I am still at 24!

Surprisingly, I am noticing a lot of flowering after we started rearing a few bees. Maybe you are right!


We introduced bees with the intent of increasing pollination on the farm anyway and I don't know if one box is actually making the difference. But the correlation is definitely there if not causality!

Last monsoon, I just brought a few cuttings from a neighboring plantation and planted them throughout the farm. They are very quick at taking root. Plant a few sticks in monsoon. They are all over the place near my farm. They should be fairly common near your farm too.
In fact, I got my banana saplings and pepper cuttings for free too from my neighboring farms! I have almost 2 acres covered in free Banana saplings now. All returns are pure profit. Of course, I share some profits with the monkeys…

90 is still low, I would think…My target is abt 150 in 2-3 years…

Not sure if I can hit that number though…But I have seen some farmers in Kerala achieving this with proper mulching and irrigation.
-Biju
Attaching pic of a giant variety of coconut from my farm. The tree was planted by the earlier owner and I have no clue what this variety is. Would anyone know the name of the variety?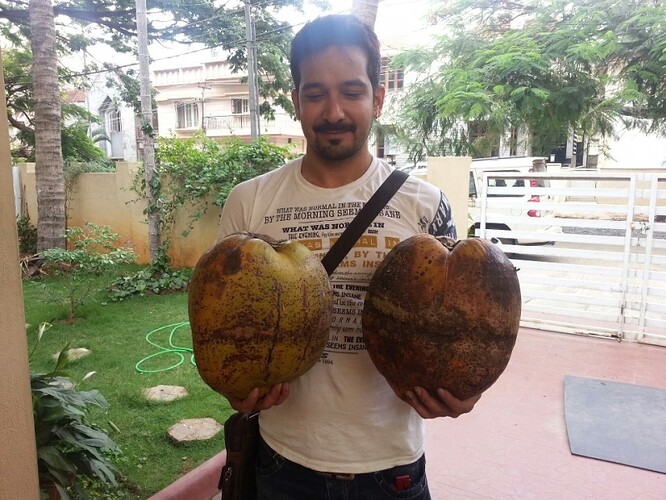 As no one gave a name for this let me guess, we call a similar coconut 'Ganga Bhavani' it is a big coconut with lots of water.
Hello arvind what is the status of coconut plants ?
hi ak 1311
bordeaux is considered natural. it is also an effective and cheap fungicide. so dont worry about including that in your organic cultivation
2 years after we gave some green manure + chicken manure + potash and set right the irrigation pattern, the trees are slowly beginning to show improvement. Most trees out of the 94 have started yielding (only 20 odd were yielding earlier), although the yield is no where close to ideal. About 10-12 trees have not shown any improvement, I will probably cut them down.

3 years ago, I was getting about 800 nuts a year. Now, I get about 3,000 nuts a year (250 nuts a month on average)