Farmers Stop - stop wasting customers' time.
I have ordered seeds from farmersstop.com a few times now and here is my experience.
What is nice:
An okay range of seeds, inputs and tools show up on their website. For example, the range of watermelon and muskmelon that shows up on the website today is larger than most other online portals
Website looks reasonably okay
What can improve:
Very poor operations and communication. I have no clue on my order FS25733 of 7-Sep-22 even after 3 weeks, having followed up with their support and owner on phone and whatsapp numerous times. Update after 6 weeks: they have completely ignored the order!
Product selection on site can be more intuitive, with some sorts and filters. It is not easy to locate a specific crop's seeds without a lot of effort. Did not try their app
Product availability status is often inaccurate and needs confirmed but with orders not even honoured, it is immaterial anyway. In fact, their order confirmation email says "Order will be Shipped Soon if Confirmed!". With the level of followup needed, it is a lot easier to visit a physical shop instead
Crop range is small and not all products are available - e.g, snakegourd, yellow cucumber, bulk seeds such as wheat, chana, cowpea, groundnut are not made available
When orders and products are fictitious, price is nothing to comment on
Conclusion
Farmers stop does not appear to have defined processes or a professional support team. Completely ignoring orders placed on the site is completely unacceptable. It has a long way to go before providing confidence to farming community, best to avoid for now.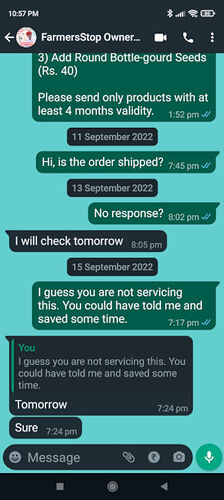 You can post your own review and rating by replying to this topic