Yuktix Solar Powered Weather Station
Cost INR 29,900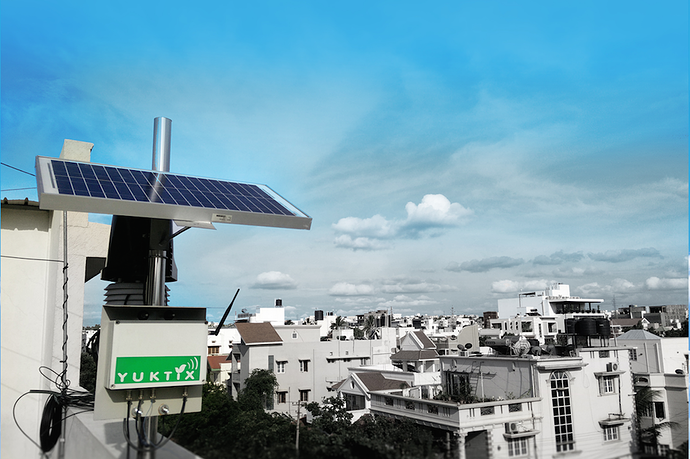 Sensors
(1) Temperature - (+/-) Resolution 0.1 C, Accuracy +/- 0.3C
(2) Humidity - (+/-) Resolution 0.04%, Accuracy 2% variation
(3) Pressure - 300-1200 hPa , (+/-)0.12hPa
(4) Rainfall - Accuracy of 0.01 inch or 0.02 mm (Adjustable)
What is in the Box
Solar Radiation Shield
Tipping Rain Bucket (dimensions) according to WMO standards
Data Logger with GSM card
20W Solar Panel
4400 mAH Li-Ion battery
Mounting accessories
DATA SIM CARD
Yuktix cloud subscription
Features
(1) Solar powered station with 4400 mAh battery backup.
(2) Real time GPRS communication. View your data in real time.
(3) Rugged filed tested unit.
(4) Option to increase backup time from 85 hours to 120 hours.
(5) One click data download. Download archives and reports.
(6) Rest API to integrate data into another platforms or websites
(7) Free 1 year cloud subscription.
FAQ
(1) Who is using Yuktix weather stations?
Indian Institute of Science, Indian Institute of Human Settlements (IIHS), Ashoka Trust for Environment and Ecology, Public Affairs center, Biome Environmental Solutions, Indian Institute of Horticulture Research (IIHR), Wipro, ITC etc. Please write to us separately if you want Government PO proofs for tender submissions.
(2) How do I know your stations will work?
Our stations have been covered extensively in the media, you can see Photo sections for installation locations. We are running the largest Urban weather network in India. The interface can be accessed from
http://www.yuktix.com/m/aws
(3) How difficult is it to install your station?
For all field purposes, one 2 meter steel pole and One screwdriver is sufficient.
Installing Yuktix weather station is quite easy. An installation instruction manual to be provided along with a video which will help you installing Yuktix weather station.
(4) How can I see data?
You can visit www.yuktix.com/m/aws to view data and download reports.
Please see photo section for more details.
(5) What happen after 1 year?
After one year, you need to pay 800 for the SIM card and 1200 for the data subscription.
(6) What are the payment terms?
100% advance payment. You can ask for a Quote and PI.
(7) What about the warranty, support and AMC?
Yuktix provides back to bench warranty. A non-working weather station needs to be sent back to our office. Email support would be provided in case of any problems. AMC of 15% is applicable after 1 year. During the warranty, we provide no questions asked replacement. Usually it just works. Yuktix weather stations have been working unattended in deserts, forests and near lakes.
(8) How to place an order?
Please send an email to support@yuktix.com with Sub as "Order for Yuktix Weather station"
We will reply back within 24 hours.