I have pmed my contact no why cannot you contact me.
[color=blue]Mod Note: Please respect the privacy and the choice of contacting via PM or discussing directly on this thread. Thanks.[/color]
For the benefit of the forum members, i am attaching the google maps to Reach Sadanada's farm from kantanakunte. The point B in the maps shows the exact location of the farm. Mr Sadananda is a well known person in the area and most of the local people will be able to guide you to his farm.
The route to be taken is Doddaballapur → Kantanakunte → Tapasihalli road. The farm is on the left side once you move into the tapasihalli road.
the contact number provided in various forums is not his personal mobile number and the number is sometimes attended and sometimes not by any of his family members. With due respect to his privacy, i will not be able to publish his personal number to the forum. If anybody is planning to visit his farm, they can directly walk into the place. If he is not available, his sons or even grandsons will be able to guide you… 

…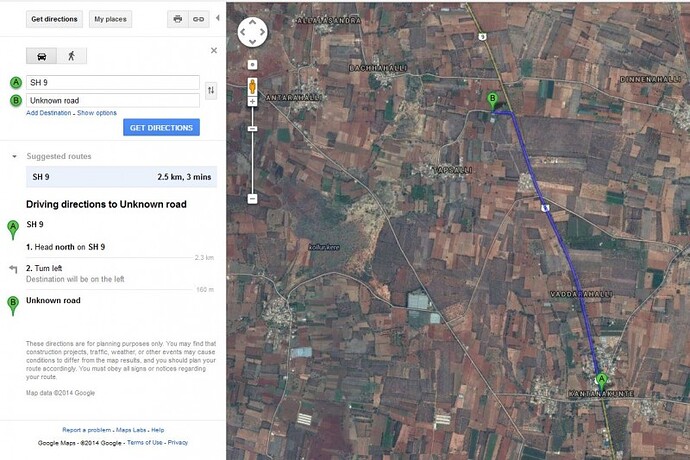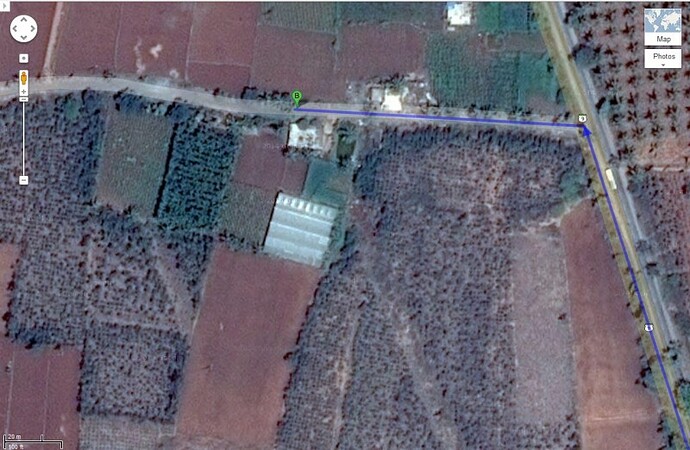 I f possible have a short visit
Myself Rajeev Pal ,is much inspired to the story , I had read the story earlier in Hindu newspaper, I want to do something similar, I am City bred Engineer with moderate income, Last year I visited a site www.sulins.org, here sulins means Sustainable Living Indian, much inspired  , I joined Suryagram Eco Village in Making ,we shall explore community Living,Sustainable life in village,Eco construction,alternate enegry etc
Visit to such farm give us some practical knowledge,it  also encourage us,inspire us
Thats great inspiration. I am planning to visit his farm on 25th or 26th of October (ie coming Saturday or Sunday). I stay in Bangalore so I think this place would be some 50 Kms from my residence. I would try to take some photos as well of his farm. Of course after his permission.
OT: One more experience I have to share about Jindal Nature Cure institute in Bangalore. In 140 acre land they are doing complete Organic farming for consumption at Jindal Nature Cure hospital and other Jindal offices. I have been there and taken few photographs as well.
Thank you bhayya,
kindly share the Full details of those Places after your Visit and also Post the Images and complete details for Guidance of our Forum Members as well as to the Public too.
MANNE.SN,
for Vasudha Green farms,
vasudhagreenfarms@gmail.com,
09133498366.
Actually Mr. Sadananda is earning around 14 lakhs per anum as per the discussions I had with him.  He is growing capsicum in 10 guntas of Poly house, half acre arcanut and half acre rose flowers, 5 guntas CO 4 for his HF cows, balance area grows vegetables and has moderate constructed house.
1.He earns from his diary around 50k/month he has good yielding HF cows which are giving around 2200 lts /month
2. His capsicum from PH is around 12 tons /10 months and earns approximately Rs. 3 lakh
3. From rose daily he gets 30-40 kgs/day sells at around Rs.60-80/kg for 10 months
4. Arcanut earns him Rs. 1.25 lakh/year
5. Balance earnings from growing all sorts of vegetables from French beans, chines cabbage, cucumber etc.
He has converted old bajaj scooter to power a pesticide spraying pump, has bio gas plant for cooking, produces vermicompost.
He has been awarded by state and central govt. agricultural departments as "Krishi Pandita" by Mr. Pawar when he was the agri Minister.
[color=red][size=100][font=arial black]Any one who is interested to know how a humble farmer can make really big money in small areas by hard work and multycrop model must visit him once.[/font][/size][/color]
He uses both organic and chemical fertilizers and pesticides.  I have his personal contact no.  any one wants to contact him can pm their requirements will message his info.  I am from Bangalore travelled  at least 4 times to find his place.  No one knows Tapasi Halli exactly.
Earning in range of 14-22 lacs/annum from just 2.1 acres of land is big achievement,appreciate him, other who are inspired should take a lead
regds
Rajeev
I have received few mails saying they want to visit Mr. Sadananda's form and they are interested in ORGANIC FARMING.  I would like to clarify all, that he is not following organic method he uses chemical fertilisers and pesticides.
Yes he uses some quantity of Vermicompost which he produces in the farm.
Just wanted to know if Mr Sadananda is selling his produce himself in retail or he is selling it in Mandi??
He is not selling anything in retail as far as I know as there are no huge visitors to his farm constantly. He sells it in the local market.
HI,
I know this article was written some where in 2010,but i cam across this article few days back only.Tried to contact Mr H. Sadananda on the number provided,but got no reply.Have tried calling the number few times but no one answers.
Just want to ask the people in the group ,is it fine if i directly go to his farm without calling him?
Secondly does anyone know if he is still farming in the same style?
Please advise
Hi,
This is satish from Chennai, I see this post is quite old. can I visit his farm? please let me know
Thanks,
Satish
Yes. He is still practicing same model. He has stopped Giriraja Chicken raring. He got the revenue said in the subject line for only one year. His annual income is approx 7 lacs/acre now.
Thanks Sri,
just one more thing I can visit his place with out any prior appointment right?
Thanks,
Satish
Yes you can but before going there give him a call and go.
can you IM me his contact no if you have