COCO PEAT:
A NEW ERA OF SOIL LESS ORGANIC ( COMMERCIAL & URBAN ) FARMING
Introduction : Coconut palm is an important plantation crop grown in 1.89 million ha in India supporting livelihood of many Indians. Coir industry is the important cottage industry related to coconut palm. Coir processing factory in India produce approximately 0.5 million tones of coir pith waste every year. The coir waste accumulates and creates an environmental hazard. Coir waste from coir fiber industries is processed into coco peat then used for horticultural and agricultural applications. Coco peat being resistant to bacterial and fungal growth also has high moisture retention and cation exchange capacity. Coco peat with such useful properties is not recommended for agricultural use alone due to its high lignin and cellulose contents. But if it is used in combination with other compost and organic manure it can prove to be an excellent culture medium, plant nutrient source and soil substitute in modern agricultural practices.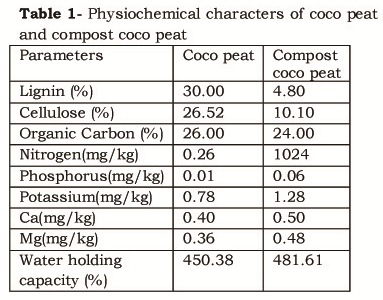 CONCLUSION :
The data from our experiment showed that although coco peat has several advantages still alone coco peat media is not found suitable for any crop. The same coco peat when mixed with compost showed better result in terms of height, number of fruits per plant (yield). Previous studies have also recommended the use of compost to promote better yield and growth.
SOIL LESS MEDIA CULTIVATION ( COCOPEAT + COMPOST + NEEM ) CONSULTANCY AVAILABLE With growing media .
Contact : bhcv@ymail.com