Looking for pineapple saplings around Bangalore.
Also want seeds/seedlings of sweet potatoes.
In international trade, the numerous pineapple ( Ananas comosus ) cultivars are grouped in four main classes: 'Smooth Cayenne', 'Red Spanish', 'Queen', and 'Abacaxi', despite much variation in the types within each class.
Smooth Cayenne' also called KEW " is held on a short and strong peduncle. It ripens progressively, turning yellow from the base to the top, which is reflected in a strong internal maturity gradient too. The flesh is firm, close-textured, juicy and with a pale-yellow to yellow colour at maturity.
Mauritius is recommended for commercial cultivation for table purposes and distant marketing, due to its shorter duration, better fruit quality, keeping quality and transportability.
Vazhakulam pineapple locally known as 'Kannara' belongs to Queen Cultivar (Mauritius) suited for table purpose. The average fruit weight is 1300-1600gms. The fruit is having a pleasant aroma, have a slightly conical shape, fruit 'eyes' deeply placed, fruit flesh is crisp and golden yellow in colour, juice is sweet with 14-16 o brix
Amritha - It is a hybrid between Kew and Ripley queen. It has spiny leaves and 13-15 months duration. Fruit is cylindrical, tapering slightly from near base, weighing 1.5-2.0kg. Crown is small weighing 80-100g; ratio of fruit weight to plant weight is medium. Fruit is green when unripe and uniformly yellow when ripe
MD-2 or Dinar pineapple is the standard for the international market because of its colour, flavour, shape, lifespan and ripeness.
As per your agro climatic conditions select pineapple variety .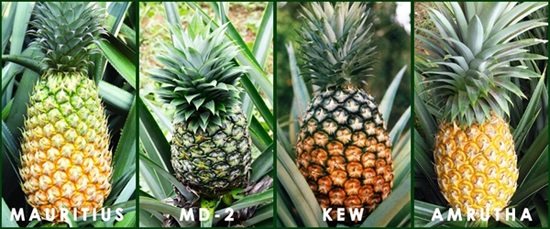 We can provide MD2 plants (tissue cultured). Please contact 7600108008, Mitesh.
Sweet potato vines also available along with pineapple.
Which place? Our place is close to Bangalore and I don't want to spend much on transport.
Is it still available? What is the cost? Where is it located? Share some details…