Marigold or rubber chamanthi cultivation in chittoor dist. The article is in telugu, other than telugu people pls adjust.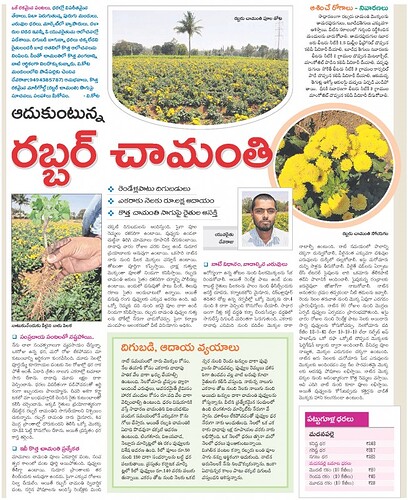 Hi Madhu,
Thanks for sharing a nice article, can you please let us know the paper name and the date so that we take a look at it in their website as the attachment is not in a readable condition.
Thanks,
Srini
Thanks Madhu.
Yes, Raju was correct. The attachment was not clearly readable. It would be great if you can share with us the source of this article.
Thank you Bhayya where shall we get the seed of this Rubber Chamanthi.Kindly Help. I am in Hyderabad  Bhayya.!
I am growing this variety in Hyd. The article did not highlight on area climate condition for crop. This variety requires cool temperatures like bangalore , chittor etc. Its not suitable in other areas where temperature crosses >34 c.
I am facing lot of difficulties in growing this variety.
During day time plants become wilted and flower which should be hard become dull and dry like dead. This flower after collecting from plants has property to hold for week time but in my farm after cutting from plants i see only 1-2 days flower are staying fresh.
Dont blindly listen or read news about fast making money and end in scrap after opting as i did.
Vamsi
Thanks a lot Vamsi, its really helpful otherwise I thought of trying in next season in  my farm which is a hot place near Ongole.
Can you please let me know any other varieties of flowers or vegetables you are cultivating.
Thanks,
Srini