Msg from Narayanji +919995167540
Whtzapp call / txt number.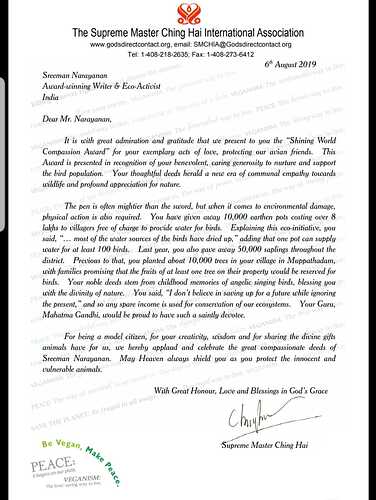 Inauguration of the project
Nadam Nanakkam nadakkal vaikkam
---
Sreeman Narayan's new project 'Nadam Nanakkam nadakkal vaikkam', which opens a new path of worship and nature conservation, was inaugurated at the Shiva temple in Ernakulam.
The ceremony was inaugurated by Prof. MK Sanu master and Dr. VP Gangadharan by handing over a koovalam sapling to the president of the temple P. Rajendra Prasad.
Sanu master said that Sreeman Narayan's 'Nadam Naanakkam Nadakkal vakkam' project is a natural rejuvenation ointment that gives the mother of earth comfort and happiness. The event was jointly organized by the Ernakulam Temple Welfare Committee and the Mission ''Ente Gramam Gandhijiyilude'', Muppathadam. The project is aimed to distribute 1,00,000 saplings through various temple…: When we cut down the trees and destroy the forests, birds are affected the most. We are, in fact, destroying their food and nesting places. Similarly, when we fill the paddy fields, wetlands, lakes and streams, we are destroying the main sources of their drinking water. In today's hot weather hundreds of birds die every day due to non-availability of drinking water. I had the great desire to do something to alleviate this situation and I started distributing earthen pots in the name''Jeeva jalathinu oru manpathram'' to provide water for birds. In 2018 March and April 10,000 mud pots worth Rs. 6 lakhs were distributed in Ernakulam district. ln the months of March and April this year 2019 in Ernakulam District l distributed 12000 mudpots worth 8 lakh.
It is estimated that 100 birds drink water from one earthen pot. Therefore, 12 lakhs birds could get living water from 12,000 earthen pots distributed by me this year.
It is a single man's charitable and environmental project, and it is first of its kind in Kerala, perhaps in India too. Additionally, I am doing other humanitarian/educational projects too. My Hotel Dwaraka has a public reading facility for all. Every day, all the
Malayalam newspapers, weeklies, monthlies and two English newspapers are being provided in the news desk for the last 20 years. I have distributed free of cost Mahatma Gandhiji's book My Experiment With Truth to all the families in the Muppathadam Village. 25000 copies have been given free to all the houses, schools and other institutions. I have also purchased and distributed 25,000 cloth bags to people in my Village with the message to give up the use of plastic carry bags. I distributed 50,000 saplings worth 15 lakh across the district free of cost. I had personally planted about 10,000 fruit trees across the houses in my village.
Jeeva Jalathinu Oru Manpatram project was inaugurated by Mata Amruthanathamayi Devi by pouring life giving water to an earthen pot. And the project was a huge success. It has been acclaimed nationally and internationally.